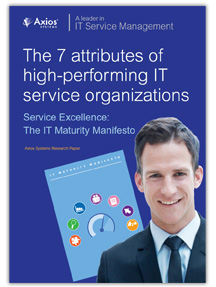 Gartner research shows that enterprise IT maturity is stuck halfway up the 5-step ladder and is at an impasse. Our latest paper shows why maturity is more than just process improvement.
The seven factors contributing towards high maturity must be strongly harnessed to ensure progress and success that is not temporary.
Read the whitepaper to discover insights including:
Ending break-fix and moving beyond legacy services
Empowering people with the service process
Creating a persuasive IT Service Vision



Complete the form on the right to access the whitepaper now







© Axios . All rights reserved
The key to success when it comes to ITIL® is becoming fully mature. But getting to that elusive Level 5 requires collaboration.
By following and cementing all seven stages, organizations can consolidate IT capabilities and become more efficient. Maturity is less about scores and more about execution.
Breaking down the barriers
The 7 shared attributes of IT Service Leaders