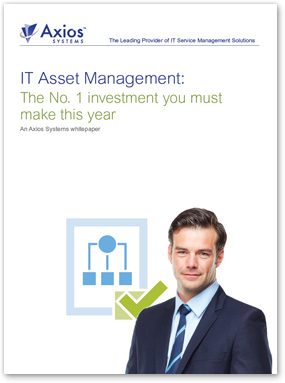 If you don't optimize your IT asset portfolio today, will your organization still exist tomorrow?

A unified ITAM-ITSM strategy can fortify data protection capabilities while strengthening the overall IT-business relationship.
Learn how IT Asset Management can help you:
Avoid excessive costs and penalties from software audits

Combat cybercrime with stronger network security

Improve operational efficiency with increased automation


Complete the form on the right to access the whitepaper now


© Axios . All rights reserved
IT Asset Management is the industry's No. 1 challenge for 2016.
From software audit preparation, to tighter network security and greater operational efficiencies, it's hard to deny the business benefits of a fully developed ITAM strategy.
IT Asset Management
The No. 1 investment you must make this year