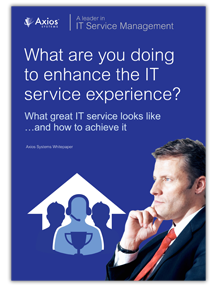 What does it take to achieve success in your organization? Do you know what your customers want, why they want it and, increasingly, how they want it delivered?
The challenge for many enterprises is bringing the what, why and how together and harnessing an IT service experience that satisfies the end user.

Read the whitepaper to discover:
The importance of what and why, and the emergence of how
Managing IT service experience through value and failure demand
Key challenges organizations face as they try to meet customer expectations


Complete the form on the right to access the whitepaper now


© Axios . All rights reserved
Delivering good IT service experience stems from good customer understanding. Identifying end user needs is key to success.
Capturing functional requirements is easy, but meeting end user service experience expectations is a more difficult task. Ensuring you meet them is vital to retaining these customers.
IT Service Experience Whitepaper
Are you really meeting IT service expectations?