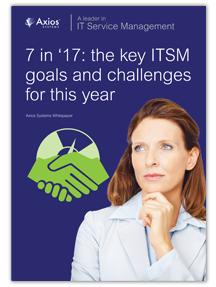 2017 looks to be an exciting year for service management, with previous service silos being unified and the worlds of ITIL® efficiency and service experience increasingly colliding.
The trends for 2017 appear endless: CMDB, ITAM, Service Catalog and automation are all on the rise. But which of the "7 in '17" has the biggest effect on your organization?

Read the whitepaper to discover:
IT's increasing shift towards business alignment and why it needs to happen
The importance of what and when to automate
How you can avoid repeating the same mistakes each year


Complete the form on the right to access the whitepaper now



© Axios . All rights reserved
Strengthen your IT organization in 2017 with the latest market trends from the ITSM industry.
Aligned with the longer-term business strategy, these insights are integral to establishing the core value of IT in the wider organization.
ITSM Trends 2017
The 7 key goals and objectives this year