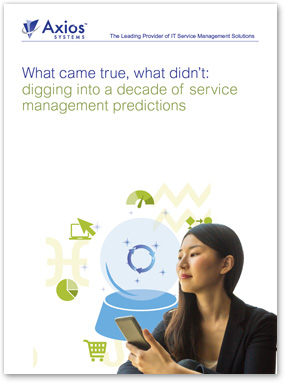 In an industry obsessed with metrics, we often measure progress on a daily, monthly, or yearly basis.

But today, having unearthed a selection of ITSM trends predictions from a decade ago, we dig further. This complimentary whitepaper explores which theories came true, which didn't, and critically, explores the industry's future direction.

Join us for an IT flashback. Get insights from leading ITSM experts. Download the service management predictions paper now.

Click through to explore:
The rise of SaaS-based ITSM
Broader adoption of ITIL® definitions
A deeper focus on internal process improvements, and more


Complete the form on the right to access the whitepaper now
© Axios . All rights reserved
From seeing the rise of SaaS-based ITSM, to observing ITIL® version changes, the last 10 years have enjoyed impressive developments in service management.

But what gaps remain? Where is the industry headed from here? Find out now.
2006 – 2016: ITSM trends in review
Digging into a decade of service management predictions