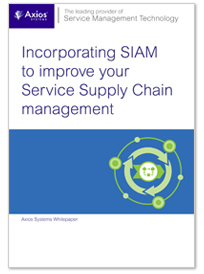 For any organization, the importance of having an effective supply chain is paramount. But how can you ensure yours is as good as it should be?
This whitepaper discusses the role of SIAM in creating a supply chain that delivers an efficient service to end users, promotes accurate reporting metrics and aids the service design process.

Read the whitepaper to discover:
The value SIAM adds to the overall supply chain

How to reduce time, financial and resource costs

ITIL's influence: what best practice SIAM can adopt


Complete the form on the right to access the whitepaper now



© Axios . All rights reserved
Analysts predict a shift in ITSM this year towards unified service management solutions, making SIAM adoption crucial.
Organizations without an effective supply chain often encounter poor communication and limited accountability. SIAM removes this headache with true end-to-end services.

Supply chain optimization
Incorporating SIAM into service delivery