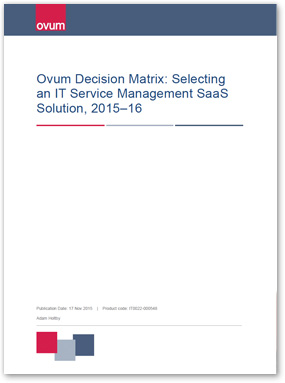 When it comes to service management powered by software-as-a-service (SaaS), global analyst house Ovum has awarded Axios Systems the highest rating in four key categories.

We're delighted to offer you a complimentary copy of the Ovum Decision Matrix: Selecting an IT Service Management SaaS solution, 2015-16.

The report will help you understand:
The latest opportunities in mobile service management
The benefits of seamlessly integrated social collaboration

How assyst service management improves service delivery


Complete the form on the right to access the Ovum Decision Matrix now
© Axios . All rights reserved
Considering whether SaaS-based service management is right for you?

If you demand convenience, flexibility and reliability, it just may be. Check out the Ovum Decision Matrix for some helpful insights.
Your complimentary copy of the Ovum Decision Matrix
Reap the benefits of a SaaS-based service management model