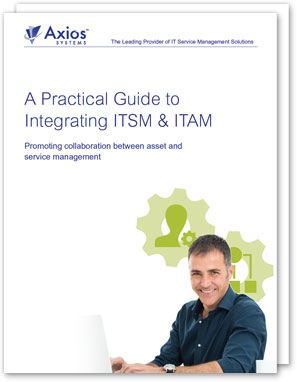 IT Service Management (ITSM) and IT Asset Management (ITAM) are closely related disciplines within IT that are converging to face the new challenges of enterprise IT today. By integrating these two key functions, organizations can streamline IT performance, reduce costs and support more cohesive strategic planning.
In this whitepaper you'll read about:
Why you should integrate service and asset management
What integrated ITSM/ITAM looks like
Planning your approach
Addressing people and process issues
Handling data and toolset integration



Complete the form on the right to access the whitepaper now
© Axios . All rights reserved
Promoting collaboration between asset and service management
In this whitepaper we look at how you can synchronize the IT Asset and IT Service Management functions to drive better performance.
ITSM & ITAM Whitepaper
A Practical Guide to Integrating ITSM and ITAM