SaaS ITSM: Time to Switch?
Compare your ITSM tool with a modern SaaS approach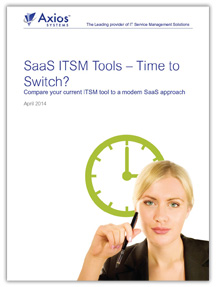 In this whitepaper, we compare the SaaS and on-premise delivery models for IT Service Management (ITSM) software.
We show you how to measure the value you're getting from your on-premise solution and assess how it weighs up against a hosted solution.
This whitepaper answers the following questions:
Is my on-premise ITSM software delivering value to the business, or is it just a resource drain?

Should we go back to the market to get the technology we need?

What are the benefits of SaaS vs on-premise ITSM tools?

Is a SaaS ITSM tool a better fit for my organization?


Complete the form on the right to access the whitepaper now
© Axios . All rights reserved
Choosing the right ITSM solution has never been easy. There are dozens of vendors and hundreds of products to be considered.
Now, in the age of the cloud, buyers have to think about the pros and cons of the different delivery models as well.