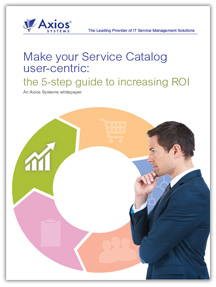 When planning service delivery, your initial focus should be on creating an overarching IT service portfolio that aligns with stakeholder requirements and expectations.

Then, in order for the business vision to be fulfilled, you must architect the Service Catalog for optimal uptake.
Learn how to:
Conduct a needs analysis

Simplify service descriptions

Reveal IT's value with greater uptake


Complete the form on the right to access the guide now
© Axios . All rights reserved
Designing or redesigning a Service Catalog?
Prioritize the end-user experience, and you're more likely to achieve higher adoption rates and greater ROI.
Service Catalog: how to improve usability
The 5-step guide to increasing self-service ROI